What is Technical Writing? And How To Hire a Technical Writer
My first technical writing job paid $12/hour.
I wrote instruction manuals about video editing software. I didn't care much about learning video editing, but I enjoyed the technical communication and business writing aspect of it. In fact, I enjoyed technical writing so much that I began to see the path of where I'd build my career.
The next step was finding a technical writing job that interested me. That's when I came across a Facebook marketing software company.
I'd always been a fan of Facebook's marketing platform. The reason is it helped me build my first startup in college where I employed 150 writers and boosted their content using Facebook ads. So I applied to work at this Facebook software company to help write technical reports and instruction manuals for them. I'd often then turn these into video tutorials.
I got the job. Since then, good technical writing enabled me to set the foundation for several companies I've built. To see how business writing can do this for you, let's dive in.
What is Technical Writing?
Technical writing is a type of technical skill where the writer is focused on technical communication about a particular subject that often requires instruction, tutorials, and in-depth explanations to understand. In short, their job is to make complex material easier to digest so it can be applied. This results in technical documents, user manuals, technical reports, and instruction manuals. This many range from software tutorials to government legality.
Technical Writing Jobs
There are many different technical writing jobs - some that pay more than others. Some with different writing styles; some you can lose yourself in; and some where you can build purpose.
Because technical writing often requires interviews, these writers must be well-versed in communication skills, listening, summarizing complex information, and understanding their target readers' persona - audience analysis. Moreover, because of the complexity of content, this job can require a lot of collaborative work with editors, product managers, developers, and even data analysts. No one said creating technical documentation was easy.
Over the years, technical writing jobs have changed as software and other industries have evolved. For example, many software systems today are less complex than they used to be. In fact, there's an entire no-code movement by software engineers to promote the ability to create without code. Become a good technical writer for software companies has become more systemized overtime in where and when it should occur.
Case in point, many software companies have what are called "universities" where they produce educational content for their product. It's become more commonplace. But what is the technical writer's role in all of this? To understand, let's jump into what they actually do:
End-User Technical Documentation
You buy a product and want to learn how to use it. You visit the product's site, then you head to their tutorial section. There are 30 well-categorized how-to articles on different features. That was done by a technical writer to help you get the most benefit out of the product.
When companies don't have technical writers, they miss out on producing these tutorials. As a result, their product remains a mystery to the customer on how to use it no matter how beneficial the product may be.
Examples of Technical Writing
1. User Manuals
Imagine you have an incredible product - let's say it's Webflow. Webflow is a cutting-edge software changing the game of visual design, but there's still a learning curve like any product. Moreover, they have different types of users who like their product. Because of how much you can do with their product and the number of customer personas, it may not be enough to write one product manual. Maybe you need three product manuals with extensive faq sections.
Product manuals used to be non-sexy because they weren't well-targeted. However, now that software companies have built better onboarding flows for their products and have lots of user data for segmenting marketing campaigns, they can give you the perfect product manual for your exact needs at the right time. This has given rise to technical writers enjoying their job more because the end user is now more likely to be thankful for their work.
2. Technical Books that Act as Instruction Manuals
Writing a book is the holy grail of technical writing. It doesn't have to be long - maybe 53 pages like the one below. With technical writing, it's not about the length, it's about the quality. Many technical writers write books to build thought leadership either for their company or even for their personal brand.
I wrote this book below on sales automation to knock out both because I help my clients build out these complicated funnels.
The most important piece when writing these books is understanding your audience. If you're building a brand outside your core user and customer base, then you want to convey the material in a way that both audiences will understand.
3. White Papers and Case Studies
Technical writers may put together white papers to convey an important topic or highlight a company's success. Document design is often a critical factor of whether people read these technical reports.
Many times a white paper is synonymous with a case study. These case studies will showcase work done by the company you work at or highlight an outcome by an end user. In the example book below, I wrote almost thirty of these case studies in the book, which were all self-tested.
Writing technical content about self-tested case studies is a lot of fun because you can conduct the test, report the outcome of the test, and then synthesize all your findings into your technical writing.
Business Writing Salary Expectations
If you're employed by a company as a technical writer, you can make anywhere between $50,000 - $200,000. Your pay largely depends on these factors:
How fast you can output writing
The expectation of your quality of writing
How high the demand is for the subject matter
Your ability to distribute your work to the right persona
The company's trust in you to work on larger projects like books and white papers
If you're a freelance technical writer, you can make more than $200,000 a year. That's if you work hard on perfecting your writing skills and industry knowledge. For some industries, you can charge $40,000 per book if you have built the reputation to do so.
And if you're building a business with technical writing, then the sky is the limit. I'll dive into this exciting aspect later in this post.
Hiring a Technical Writer
Hiring a technical writer requires vetting for industry knowledge. You don't become a technical communicator without industry. Sure, the knowledge can be learned over time. However, you often don't want people learning off your dime from the start. To vet people, it's sometimes as easy as looking at their portfolio of work or where they've worked last.
For example, a technical writer who's worked at Wix and Zapier may be an excellent fit to write content on Webflow topics. The reason is Wix is a website builder and Zapier is a no-code automation tool. This overlaps with Webflow's value proposition of being a visual platform to build websites and software without code.
The catch: to hire a technical writer, you must have the deep industry knowledge to vet them; otherwise, you're shooting in the dark.
Technical Writing Software Tools
There are many technical writing tools that can help your writing process from report writing to creative writing. Here are a few of my favorite writing tools to help you communicate information about technical products and technical industries:
Where to Hire a Technical Writer
I hire technical writers mostly using freelance sites like Upwork and Freelancer. These sites make it easy to find the talent you're looking to work with. I wrote a blog post with a detailed section on how to create the perfect job post to hire technical writers here. If you follow it, hopefully, you'll have an outcome like this:
How to Become a Technical Writer
When it comes to technical writing, you need more than top-notch writing skills. You need industry knowledge - enough to be considered an expert. The reason is your job is to convey expert information in a way that newbies to the subject matter can learn it. In parallel, you need strong learning skills. I'd even go as far as to say that your learning skills need to be superior to your writing skills. Because engaging and useful documentation doesn't exist without quality information.
To get this information across well, you need to have been in your customer's shoes or working with someone with a product background who has skill in identifying pain. For example, I can get technical information across in an easy to understand way about software products and entrepreneurship because I've run a company and built several software products. These products include Chrome extensions and desktop apps.
As a result, you may find it easier to transition into technical writing once you have some real-life experience under your belt in the industries you want to build your writing career.
To ease the process, there are a number of clear-cut steps you can take that will upgrade your technical writing skills in any industry. I follow them for every subject I write about:
Take Care of the Basics
The first step to understanding an industry is to read the material written by the experts. Sign up for their newsletters and buy their books. The more you read, the better off you are. At some point, if you read enough, you'll figure out which experts are really worth following.
Interviewing Industry Professionals
These interviews don't have to be in-person. In fact, most of your interviews can be over a conferencing tool like Zoom. You don't even need to write what the other person says if you hit the record button on Zoom, then use a tool like Descript to automatically get the text from the conversation.
I highly recommend asking questions that help you learn more about the industry while also keeping your guests entertained. I like to interview people in-person because they often feel the need to please the audience, which leads to better stories and more learnings. I can also use this content as marketing material to advertise my freelance technical writing or include it in the content I write for companies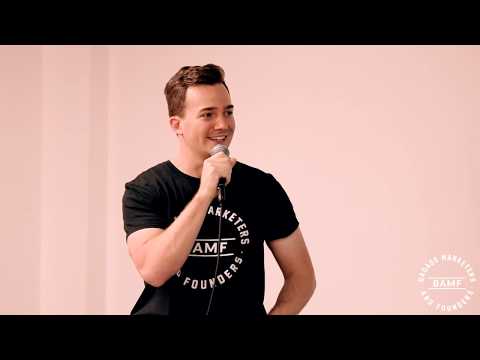 To conduct an excellent interview, here are my five best tips:
This means working hard to understand what it's like to be in someone else's shoes. Sometimes it's not something you can work on, but have to experience. For example, if you're interviewing doctors, then spend time shadowing them in hospitals.
That's why it's called an interview. You're not there to express how much you care about the industry. You're there to learn and ask the right questions to get the right answers.
In order to get interviewees to open up, sometimes you need to open up first. If you're asking a personal question that they have difficulty answering, then it's okay to tell a personal and vulnerable story that relates to that question. This way they feel more comfortable opening up to you because you won't judge them.
If you don't understand something, don't pretend as if you did. Admit to what you don't know by asking questions to clarify it even if you have to say, "explain to me as if I was a 5-year-old."
Go the Extra Mile to Learn About the Industry
If you see yourself writing in an industry for a length of time, it's worth investing extra money into curated industry content to refine your expertise.
Here are three ways you can do that:
Attend an industry conference (ask your company to sponsor it)
Take online courses (try Udemy or Coursera)
Attend workshops
For industry conferences, you may even make a few connections who will invest time in mentoring you to get to the next level. I've met plenty of people at conferences who've taken extra time to help me learn new things - even future clients. As long as you have the confidence to make introductions and ask for help, you'll meet the right people.
How to Ideate Technical Writing Topics
If you're plugged into your industry, then you'll find plenty of topics to write about. You just need to keep your eyes peeled and your ears open. The first step of ideating is asking yourself, "What problem am I solving for my ideal reader?" To find these problems, take a look at where your reader hangs out and listen to them.
If you're conducting interviews for research, you may get a number of ideas from the people you chat with. It's a simple way to build your network while building your knowledge base.
The next step and one of my favorites are looking at posts in forums, especially Facebook Groups. For example, I found this post in Webflow's Facebook Group. Now, I can check if this is a reoccurring problem in other posts. If so, then it might just be a great idea to write about the solution.
One of my favorite SEO tools I like to use is Ahrefs. It helps me identify problems people are looking to solve via Google. By knowing these problems and how competitive the answers are, I can produce content that can rank and drive traffic from these keywords.
To understand the problems people have around a particular keyword phrase, Ahrefs provides relevant questions Google or even YouTube searchers are asking.
Now I have a clear idea of how many people have this problem. To find out how valuable the problem is, I'll check if people are spending money to have their content shown to solve this problem.
In the example below, people are paying $9.00 per click from ads for this search phrase "freelance digital marketing" even though it has a 1/100 competitiveness in regards to content on Google.
Knowing that people are spending money $9 per click on this search phrase gives me an idea that it's valuable. As a result, I wrote a 5,000-word blog post on the topic to get it to rank #1. It will take time for Google to push it to number one, but it already started driving me traffic after the first week.
It goes to show that when you pair technical writing with strategy, your opportunities to build a brand and business become exponential.
Is Freelance Technical Writing Better than In-House?
Freelance technical writing isn't for everyone. If you've never done sales, it's hard to make the leap from being an employee to becoming a freelancer. You also need to understand scope creep with clients and negotiation. In short, there are many movies pieces.
Here are four things you should have as a freelancer:
A predictable pipeline to get clients
Deals longer than three months
Ability to work alone
Ability to execute
With these four key elements, you can build a successful freelancing career. To make it even more successful, you can build a network of other freelance technical writers to execute for your clients. This way you can focus more on technical writing that lands clients for freelancers who work for you. You simply take a commission on top of their work for handling the sales and marketing aspect.
If you're looking for something steady without risk, then the employee life can fit you well. However, in the long run, it's always better to learn how to freelance as it's the fastest growth opportunity.
How to Differentiate Yourself
The only way to build a successful career in technical marketing is by picking a niche you can dominate. Ideally, this niche has growing demand and doesn't have too much competition. Then you want to do everything you can to become an expert in this field. For me, I wrote hundreds of blog posts about technical marketing and turned them into books.
A mentor once told me, "The reason I'm successful is that I'm still working in this industry. Most people give up."
He's right.
After working in technical marketing for over seven years, I've watched hundreds of people give up. They change fields. Take year-long sabbaticals. Once they do that, they often have to build a brand from scratch again. The trick is finding what you love early on and sticking with it.
How to Retain Clients
You need to provide ROI.
For many technical marketing jobs, they won't ask you to do this. For the best, they will. There's a reason for that - they value and are willing to pay for growth.
To understand whether your technical writing contributes to the growth of a company, you need to put in place an ROI hypothesis and make sure you can measure it.
An ROI hypothesis you can measure may look like this:
"If I write an eBook about building a remote agency for our customer segment of freelancers, then I expect those who read it to have a 20% higher retention in our product than those who don't read it
We will measure this retention by working with @product-manager-name and @data-analyst-name to tag downloading this eBook as an event in Mixpanel/Amplitude/Google Analytics from a chosen source of traffic that we'll A/B test to compare results."
Sometimes it's easier if the company wants you to measure results by emails generated from downloading an eBook. Many companies like vanity metrics; however, vanity metrics don't ensure you'll have long-term job security.
The one thing you want to consider is whether the company has distribution to market your content. If they don't have distribution, then they'll have to rely on yours. If you're confident you can distribute the content well, then you can charge them a lot more.
How to Leverage Your Technical Writing to 7 Figures
When I became a technical writer and knew what subject I liked writing about, I created a Facebook Group around it. Then, I invited many relevant industry professionals to it.
Every time I created an in-depth industry tutorial, I posted it in this community. From there, word of mouth spread and the community grew over three years to 25,000 professionals.
In the second year, I began selling marketing services to these professionals where I had other freelancers doing the execution. I would just continue writing technical tutorials for the community to get them excited about the work we did.
As a result, this helped build the foundation of a 7-figure agency I ran. The agency was nothing more than a website with a landing page. We'd answer calls, then sign prospects and turn them into clients.
From there, I took a lot of the knowledge I'd gain from creating technical writing tutorials and turn the material into a course I'd sell.
After I left the agency, I used my content to rank for particular keywords on Google for my blog like "freelance technical writing" and other keywords where possible clients could find me.
This worked exceptionally well. In four months, I saw my traffic spike to over 40,000 monthly visits. I'll admit that it helps to have an email list to repeatedly drive traffic to your blog every week. But you can create one too by starting a Facebook Group and marketing your technical content.
If I can do this in four months, imagine where my traffic will be in one year. That's the power of technical writing in full force.
Next Steps
If you have enough confidence to build your 7-figure technical writing brand, then put the pieces in place to ensure it happens. That means carefully laying out each step you need to achieve this goal from content creation to relationship development. The only way to move forward is to have clarity on what the road ahead looks like.
If you've picked a niche, this won't be difficult. As long as you're not spread thin and have focus, you'll level-up your technical writing skills and create your dream career.